Women in Golf Summit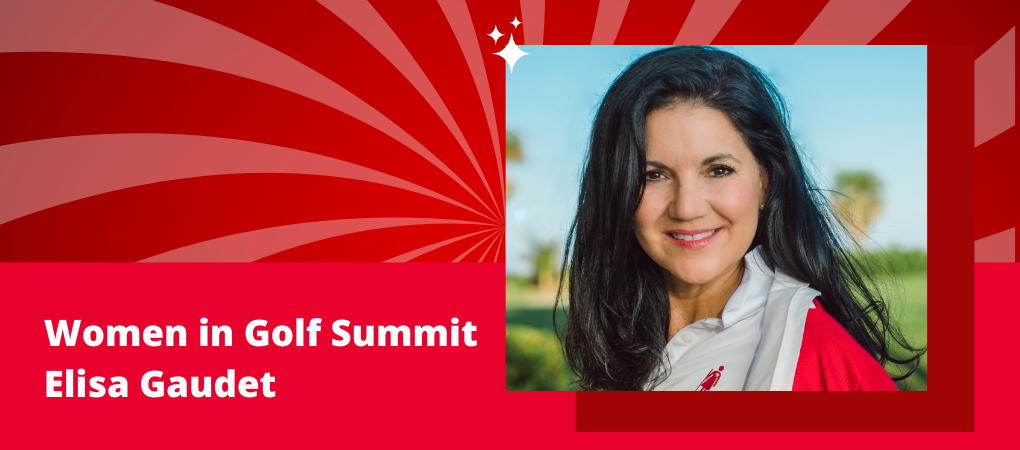 TUESDAY, NOVEMBER 29 | 9:30 AM - 11:30 AM
Back by popular demand, the NGCOA Canada Women in Golf Summit focuses on celebrating women in the golf business and collectively addressing the unique issues they face daily. This session features an inspiring address by our guest speaker, Elisa Gaudet, along with round-table discussions that will continue to help develop our roadmap for the fairness, inclusion and growth of women in golf.

9:30 am - 10:15 am | Keynote Speaker: Elisa Gaudet, Founder, Women's Golf Day

Your day begins with a keynote address from Women's Golf Day (WGD) founder, Elisa Gaudet, who will share her personal triumphs and struggles while working her way through the golf industry for more than 20 years. Elisa's determination to succeed never waivered and today she is the proud founder of the global movement known as Women's Golf Day. WGD is held annually on the first Tuesday in June and engages thousands of women across the globe through the game of golf. Women's Golf Day is designed to engage new and existing golfers, creating a global community to engage, empower, and support women. In a historically male-dominated sport, WGD transcends language, culture, geography, religion, politics, gender, and age.

Following her keynote address, Elisa will take questions from the floor. Take notes, listen close, and be ready to engage with Elisa about her amazing journey over the span of more than two decades in the golf industry.

10:15 am - 10:30 am | Break
10:30 am – 11:30 am | Round Table Discussions
Become more empowered and gain insights to improving workplace culture during our roundtable discussions. Share best practices and stories on topics that uniquely affect women in the golf industry and leave this session with YOUR very own community that will help support you on your journey.
________________________________________
Meet Elisa A. Gaudet:

Elisa brings more than 20 years of experience in the golf industry to Women's Golf Day (WGD), which she founded in 2016. Gaudet's golf industry experience spans USA, Europe and Latin America, and has included executing the 2002 EMC World Cup for the PGA TOUR. In addition, from 2000–2001, she spearheaded sponsorship, marketing and PR for the Tour de las Americas (Latin PGA Tour). In 2002, Gaudet founded Executive Golf International, a strategy-driven golf marketing firm. Her widespread experience in the field also involves TV rights negotiations, sponsorship procurement and activation, targeted and strategic marketing, player relations, and benchmarking studies and large-scale destination marketing.
An award-winning writer, Gaudet's syndicated monthly column "On the Lip," later renamed "Two Good Rounds," ran from 2003- 2016 and has appeared in Huffington Post, Cybergolf, New England Golf Monthly, Florida Golf Central, Visit Miami Book, Alaska Inflight magazine, Golfers Guide, and Stratosphere private jet magazine. She is the author of the "Two Good Rounds" book series: "Two Good Rounds – 19th Hole Stories from the World's Greatest Golfers," "Two Good Rounds SUPERSTARS – Golf Stories from the World's Greatest Athletes," and "Two Good Rounds TITANS – Leaders in Industry & Golf." Gaudet is a breast cancer survivor and champion for empowering women to live their best lives now.
Gaudet has appeared on numerous radio and TV programs to share her golf knowledge, and has hosted golf programming and segments on lifestyle, travel and the 19th hole. She has spoken at numerous international sports and business conferences, including the International Sports Conference – Geneva, Asian Pacific Golf Summit – India, European Golf Course Owners Association – Austria, Golf Inc., and many corporate events. Her international recognition awards include: SF Business & Wealth- Prestigious Women Award (2022), International Sports Awards (ISC) (2020) – Individual Sports Professional – Community Award, National Golf Course Owners Association (NGCOA) (2018) – Champion Award, and European Golf Course Owners Association (EGCOA) (2016) – Significant Contribution to the Future of Golf.
Prior to her involvement in the golf world, Gaudet worked in the entertainment industry for more than 10 years as a model and Screen Actors Guild (SAG)–American Federation of Television and Radio Artists (AFTRA) actress.
She is a graduate of George Mason University in Fairfax, Virginia; and also studied at Stanford University in Palo Alto, California; University of Valencia in Spain; Imperial College of London, and Paris-Sorbonne University. She has traveled extensively and has lived in London, Paris, Geneva, Tokyo, Cape Town, San Francisco, Washington D.C., Los Angeles, Mexico, Barcelona and Miami. She now splits her time between New York City and West Palm Beach, Florida.
---
presented by: