Great Canadian Idea Share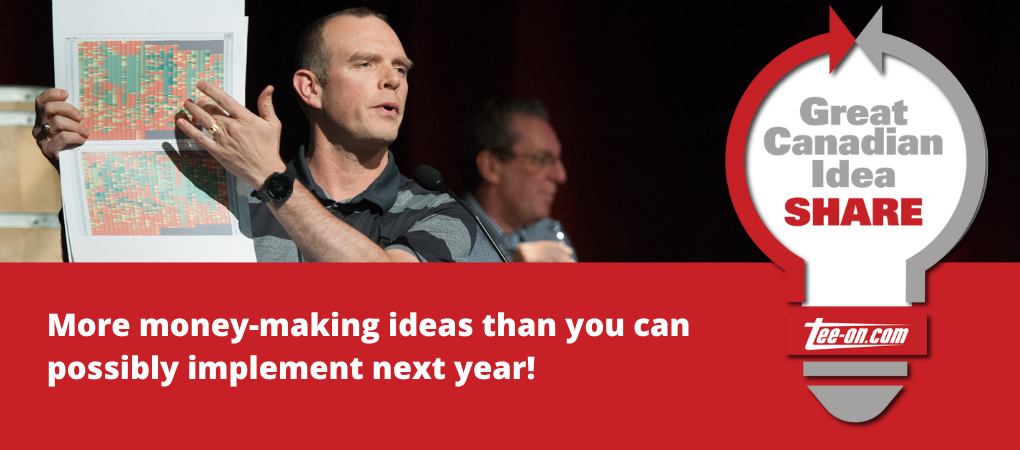 Congrats to Jenna White of Redwoods Golf Course on her winning idea!

"12 Day Advent Calendar"
Every year for as long as we've been keeping track, we have done a Christmas Green Fee sale during the month of December which essentially were heavily discounted green fees to be used the following year. In December of 2020 we were a little hesitant to offer a similar deal that we have in past years but at the same time, we did not want to completely remove the sale altogether. Instead, we got a little creative!
Advent calendars have been surging in popularity lately and we decided to hop on that trend and offer our email database (Club RED) a virtual advent calendar from December 1-12th. Each day we had a different offer or giveaway planned which would only be available on that particular day. On 8 of the days we offered different items or packages for sale, and on the other four days we offered prize draws that customers could enter to win online.
On one of the 12 days we did sell spring foursomes at a 25% discount however we limited it to one per person; this prevented golfers from "stocking up" for the next season and instead ended up being more of an exclusive reward for loyal Club RED members (email newsletter members).
Throughout the sale we offered other things such as Red Books with an added bonus of a bucket of balls, a Redwoods Starter Kit included a hat, logo ball etc., driving range cards, power cart rentals, and even wine and beer which ended up being some of our best sellers! We really focused on value-added offers rather than providing discounts.
Setting up the Advent Calendar and online store initially was quite a bit of work and we faced many setbacks when preparing for the sale but we sold over $16,000 and our email database was continuously engaged for 12 days straight so we were more than pleased with the Advent Calendar! In the previous three years we had an average Christmas sale revenue of $8,800 solely in green fees. With the Advent Calendar we sold $6,100 in green fees and another $10,000 on other various items.
Earned more money: we saw a revenue of over $16,000 when the three-year average was $8,800. That is nearly double the revenue that we would usually see from a holiday sale.

High email open rate and click rate: 30-34% open rate with over 27,000 customers | 16-27% click rate
Golfer's reactions: Extremely positive consumer response to the sale with the least amount of complaints that we have ever seen in a sale campaign!
With the advent calendar we saw higher sales than ever before with a holiday sale. With each of the individual sales being one day only it created a sense of urgency to purchase—customers didn't wait around all day or think about making a purchase for a few days; they purchased the items first thing in the morning so that they did not miss out on the offer.
This sense of surprise and urgency also caused our email database to be incredibly engaged during the entire 12 days. Over the three emails that we sent to our database of over 27,000 customers we saw open rates from 30% - 34% and a click rate (opened the email and clicked a link) of 16% - 27%. Our email open rate is typically quite high and sits around the 30% mark so this did not change a lot however our click rate is typically around 6% so that shows customers were a lot more engaged in the Advent Calendar emails than our regular emails.
By selling more than just green fees, the Advent Calendar appealed to a much wider audience. However, because we had rotating surprise offers, we did see some of the same customers buying multiple different items over the course of the sale.
We were also able to get rid of some extra or aging stock that might not have sold otherwise such as logo hats, beer and wine which were incredibly popular.
With any holiday sale, we always receive some sort of negative feedback whether they are not happy with the discount, or it's not as good as the year before etc. someone always has something to say. With the Advent Calendar we received the least amount of negative feedback that we have ever seen from any sale or promotion we have offered and we only received two negative comments over the course of 3 emails to over 27,000 customers.
Finalist Prizing provided by Tee-On Golf Systems Inc.
---
Other Proven Ideas Presented on Stage:

Choose to Be Different with your Pro Shop | Blake Clayton, Blue Devil Golf Club
Our Great idea this year is actually very simple and easy for anyone to do. We decided to become the Adidas shoe destination for the South End of Calgary. Our idea was to bring in every shoe in every size for both men and women. The main goal behind this was to not only service our members and public golfers but the general golfing public that might not play at our facility. To get the word out we advertised using email marketing and social media which cost us $0. At the beginning of the season we planned a big grand opening where we brought all the shoes out to the putting green and had a "sidewalk" with staff handling shoes fittings. That day alone we sold 40 pairs of shoes to mostly walk-ins off the street who weren't golfing. Throughout the season we run 2 more sales with similar success. Because of our partnership with Adidas we were able to return most of the unsold shoes or keep them and receive a large discount which in turn would give you the ability to sell them at a discount at the end of the season or into 2023 while still making a profit.
At the end of the day we sold more shoes then ever before but we also brought in NEW customers to our facility. From a membership standpoint we were able to service our members to a higher degree because we carried every style and a wide variety of sizes so we never had to say NO.
---

Maintenance QR Code | Kevin Graf, Woodside Golf Course
This season, we implemented an Idea that solved an issue we have had for years. Every year we have multiple pieces of equipment that go down, whether it's a power cart, beverage cart, maintenance vehicle, etc, it happens every season! Prior to this season, the process for this has been parking the vehicle in a designated area and wait for the mechanic to fix the issue. The problem has always been communication! For a power cart as an example, the cart is parked in that area, with maybe a sticky note that doesn't have much detail, no name attached for our mechanic to ask questions, and some times, the manager isn't even aware there is an issue when asked by our mechanic.
This season, we addressed this issue by creating a QR code system. We have this QR code in multiple spots like the Maintenance building, by our Proshop computers, in the Backshop, and in the restaurant and kitchen. When this QR code is scanned, it brings up a google doc that has required fields to fill out for the staff member entering the issue. These fields include:
- Name
- Date
- What type of equipment (Golf Cart, Range Picker, Bev Cart, Maintenance Vehicle)
- Cart number or ID
- A list of possible issues with the vehicle that you can select
- Area to write notes or anything else for the mechanic
Once you have filled out these fields and hit submit, an email not only goes to our Mechanic, but to all of the Managers as well so everyone is on the same page and knows about the equipment that is down. While the information might not always be accurate to why the vehicle isn't working, it gives our mechanic somewhere to start when solving the issue and helps identify the issues faster.

It is extremely user friendly which makes it easy for any staff member to document and submit!
We found it to be such a successful way to document issues, that after a short period of time we added things around the building like Doors, furniture, coffee machines, fridges, kitchen equipment etc.
We have seen two big differences with this idea, the first is how quickly our equipment gets repaired, and the second is how our communication between managers has improved with these situations because we are all aware of the issue as soon as it is submitted. The only cost to us with implementing this idea was the cost of getting stickers printed with the QR code.

---
Management Hours Reporting | Slade King, Play Golf Calgary
Management Hours Reporting - As we all know in golf, management on salary have to put in whatever hours are necessary to get the job done. We then hope that we can take a little time back in the off season. We came up with a simple and effective way to create a fair expectation of hours on our management team. Each month our managers and assistants will self report what their average hours worked per week were for the previous month. We do this through a simple Google Form. We take each monthly number at the end of the season and calculate the average. At an end of season review we go over what the average hours worked were in the summer and use that to create an expectation of average hours to be worked in the off season. ie 55 hours a week in the summer would give an expectation of 33 hours a week in the winter.

It created a clear path for communication between Managers, Assistants, and Ownership. If a manager was doing ridiculous hours we can discuss what help they need right away vs letting them grind it out over the entire season. If hours were entered that were higher or lower than what their supervisor expected, that could be discussed. Everyone is on the same page, its fair, and its openly talked about. Our managers feel like they can work hours needed as they know they will get hours back in downtime. Different managers can have different winter expectations based on their summer performance. Not everyone needs to be treated the same.

---
Ladies League Wine Passport | Riley Boothby, Play Golf Calgary
Ladies League Wine Passport - To add some fun to ladies wine and nine night. We produced a physical passport that looks and feels like a Canadian Passport. Each page of the passport has a different country with a few wine facts. Each week we feature a wine from the different countries. The ladies would try the wine from that country and stamp their passport. At the end of the season , those who collected all stamps were entered into a draw for a case of their favourite wine. Also on each tee box we listed wine facts from that nights country so as they played they retained a fact on each hole so by the time they finished they were a little more educated on the wine they were trying after their round that night.
The fun factor of league night went up, as well as a 20% increase in weekly participation, as the ladies had the motivation to come and try a different wine as well as collect the stamp from that weeks featured country.
---
Driving up Revenues - Shuttle Service | Brittany Nigh, White Squirrel Golf Club
Our golf course is in a rural area, where access to taxis, uber, and public transportation is not possible..and after a few drinks on the course, our guests were hesitant to stay on our patio to continue enjoy our food and beverage offerings. To solve this problem, we purchased a shuttle with seating up to 14 to not only bring guests home after a day on the course, but to literally DRIVE revenue to us.
Our shuttle service has been a fantastic offering to our guests, especially those visiting our area on bachelorette trips, weekends away, or family events. There is a per person fee, generating shuttle revenue, and our guests who are shuttled to the course have an incremental spend that is 3x that of our average greens fee golfer. Our shuttle is booked and paid for in advance, but we now have peace of mind that when we have guests who need a safe ride home, one is available to them.
Our regular league players have booked it for the entire season, so that they never need to worry about who is driving -we've always got them covered. Our relationship with our AGCO inspector has never been better! With over 2000 individual users this season, our shuttle generates enough revenue to sustain itself as well as additional revenue through our entire operation.
---
The Beaver Den | Carrie Julie, Sawmill Golf Course
"Hey you! Where did you get that awesome sweater? The logo is so cool. Where do I get one?". You have to be a member of The Beaver Den.
The only way to get the alternative logoed sweatshirt was for Members to be a top 40 spender in F&B and pros shop merchandise in 2021. The logo is not used for ANYTHING else.
What did this create: In 2022, Members were obsessive about trying to become a Member of The Beaver Den. Instead of going elsewhere for dinner and drinks they stayed at Sawmill. Instead of purchasing at the local big box, merchandise was bought from Sawmill. This combined group of 40 members spent over $100,000 in sales.. The top 40 in 2022 are getting custom head covers with the cool alternative logo.
Join the cool club….. become a Member of the Beaver Den at Sawmill!!!
---
When Private Golf Meets Public Pub | Susan Kessler, Glen Arbour Golf Course
As a new day began at Glen Arbour in May 2020, after over twenty years we changed ownership and direction from a public course to a private club. This was only our second owner and first time as a private golf course. The direction for the new club was not to follow the usual cart path but one for all to enjoy from couples to young families alike.

Our Clubhouse, as with all golf courses is the hub and heart of the operation. It's where you shop, where you gather, where you tell some tales, and where you spend time with your friends and family. A course in Nova Scotia does not have the luxury of all-year-round golf, if we are lucky, it's 6 months at best. We wanted to have a place where everyone knows your name 12 months of the year.

Glen Arbour was fortunate in the 2020 season that our new owners could spend their time and money on building such a place. While the greens and fairways had their usual love and attention and took care of themselves that year the Clubhouse benefited from a top-to-the-very-bottom overhaul. Not a storage room was overlooked and rethought.

At the heart of these renovations was the restaurant. Previously we had some very sad spaces to offer our guests to spend time after their meal and to be honest even sadder food. It was not a place where you wanted to hang out or bring your partner to spend the evening or a Saturday lunch.

The vision for this new private club was to have a restaurant not just for members but for the communities surrounding the club and beyond. A restaurant and meeting place where all are welcome all the time. What we ended up achieving was an authentic Scottish Pub with an additional Sports Bar and a quiet Snug to complete the new look. Every corner has something original that was painstakingly tracked down from Scottish artifacts to Shaquille O'Neal's shoes in the sports bar. These new spaces gave so many options for all kinds of events. Scotch Evening in the Snug to Sunday Brunch Magicians to packed Trivia Nights in the Pitch. Once discovered this place is one that has our guests returning week after week. The numbers back up our success story this year we are on target to see The Deerfield Pub revenue north of $1.2 million. Compared to 2019 just over $132k.

During the season our golfers may be on the patio overlooking Sandy Lake and chirping those on the 18th green while the pub is filled with public guests listening to the local bands, we have each and every weekend. Our dance card is full now the word has spread through the Nova Scotia musical community. No two days are the same, a visit could bring you to a sea of all familiar member faces the next not one member at the bar, to the next members and pub guests sharing a table enjoying just some of the best food around.
Just with the mix of clients and venues, we have a mix of food offerings for those traditional dishes to some not usually found on a clubhouse menu, classic Keith's IPA beer battered haddock, a rocking House Burger, Steak, & Ale Pie to Tuna tartare, Scots Egg and Baked Brie. Of course, the drinks list had to match our menu and as with the menu, it was fine-tuned to get this just right. Our golfer's needs were met with 12 taps and our guest's needs were met with a reserve wine list and the best smoked handcrafted cocktails.

This public restaurant in a private club is not your dad's golf club it's better, it's inclusive, it's fun, it makes sense and it can be done. The warmth of the welcome to all, our members, and our public guests are genuine and true. Pull up a chair the next time you are in town, you don't always know who you will meet.
---

No Traditional Tee Colours | Dany Beuséjour, Centre d'Activités et Golf le Sélect
Remove the gender colours for the tee box, exit the red and the white traditional gender colours.
Golfers now play with there talent not with their gender, it's more like the ski approach, easy, intermediate, expert and double expert.
Really important, you must suggest on the scorecard which colour matches the drive distances, so it will help the golfers choosing by them self the right tee off were they feel comfortable, you will be surprised when more then 60% of your men will tee off your old RED!
We did implement the ideas about 6 years ago, and we now have no less then 60% of the men playing the silver, but they just don't know that they were the old red tee off at 5354 yards! We even have men playing even shorter distances then the old red with the bronze tees.
It make the course a lot faster during busy days and keeps the pace of a round between 3h50 and 4h15 most of the time and without marshalls at all.
There is a lot less need for marshall interventions, actually we don't need marshall during the week day, only on weekends when there is 220 golfers or more, and even then with minimal intervention, so you save a lot on staff and your staff will have a easier job. And another advantage, you will not need to push on golfers to accelerate and no more bad comments on the internet because of your marshall interventions or your pace of play.
We have happier customers because the pace is excellent and also because they have an average of 10 to 15 strokes less per game because they play their game. Shorter distances, mean less balls in the woods, and short iron for a easier approach on each greens. 18 times all of this, multiply by 200 golfers or more, it makes all the difference in your day!
Another really good thing about the change of colour, it's going to reduce the pressure on golfers especially the men, they are more relaxed playing the right distances, and your golf course will instantly become way more attractive to beginners and elderly, which is perfect to develop new customers.
It's also a big plus for your income because your golf course will have more tee times to sell every day, we start every 8 min while some other golf start every 9 or 10min, it's a lot of free money on the table just right there and without major investments 8 foursomes a day in cart, represent thousands of dollars every weeks and it make a real difference at the end of the season.
Adopting bronze, silver, gold and black tees was just the best idea to increase revenue and lower our expenses years after years for such a small investment, the ROI (return on investment) is amazing, direct and really to easy to achieve in any golf club, it's a real no brainer if you think about it.
---
High School Golf Team | Brian Schall, Copper Point Golf Club
In 2022 we took over the Golf Team at our Local High School. In past years the Team was lucky to have 4 or 5 students on the Team, in 2022 we had 25 students on the Team with 1 girl. Every Wednesday and Friday after school we had all players come to our Mine Academy for practice time and lessons. All 4 PGA members were available to help with instruction and play a couple holes with the Team after practice. We had a home and home golf outing with the Team from Golden as well we took 5 players to the High School Zone Championships held in Creston. We raised money through a sponsorship program so we could buy balls, gloves, shirts and hats for the Team as well pay for food when we did the home and home with Golden. The only fees the players paid was for the school bus. All players were given complimentary golf Monday to Friday while attending school on The Ridge Course. In 2023 we are setting up more home and home outings with High Schools in the Cranbrook area as well as Golden again.

Out of the 25 players on the Team, 9 bought seasonal passes to The Ridge Course at $425 each and 3 parents bought seasonal passes at $1950 each to play along with their child. Numerous times the players and their families came to the club for lunch or dinner.
---
Thank you to everyone that sent in their ideas. We love seeing what you present each and every year, and hope that delegates are able to walk away with the wheels turning on what ideas they might implement at their course. We look forward to our 2023 Great Canadian Idea share in Montreal!
---

The Idea Share is always one of the highlights of the Golf Business Canada Conference. Once again we are looking for the best proven ideas from your golf facility (Note: no product testimonials please). Get in the running to win the $5,000 Home Hardware Gift Card and bragging rights for the entire year!
The BEST proven ideas will be chosen to be presented during the Great Canadian Idea Share, presented by Tee-On Golf Systems, at the conference.
All ideas submitted will be posted here for your viewing pleasure after the conference – a great idea is just waiting for implementation at your course next year!
The 2022 Great Canadian Idea Share has ended. Thank you to everyone that submitted their ideas. Get your thinking caps on, and get ready for 2023. We are eager to see what this year's Great Canadian Idea Share has in store.
Facilitator: Jim Thompson, Director, Member Services, NGCOA Canada
---
presented by: