Great Canadian Idea Share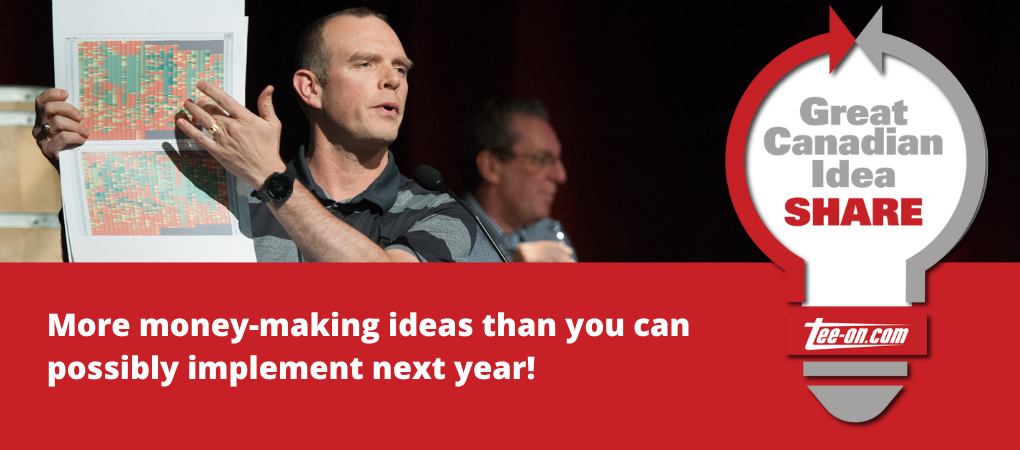 TUESDAY, NOVEMBER 29 | 4:15 pm - 5:15 pm
Finalist Prizing provided by Tee-On Golf Systems Inc.

The Idea Share is always one of the highlights of the Golf Business Canada Conference. Once again we are looking for the best proven ideas from your golf facility (Note: no product testimonials please). Make sure to submit yours before November 21 and get in the running to win the $5,000 Home Hardware Gift Card and bragging rights for the entire year!
The BEST proven ideas will be chosen to be presented during the Great Canadian Idea Share, presented by Tee-On Golf Systems, at the conference.
All ideas submitted will be posted here for your viewing pleasure after the conference – a great idea is just waiting for implementation at your course next year!
Submissions are now closed. Thank you to everyone that submitted their ideas. We are eager to see what this year's Great Canadian Idea Share has in store.
Facilitator: Jim Thompson, Director, Member Services, NGCOA Canada
---
presented by:
Just What is Great Canadian Idea Share?
Jim Thompson, idea session host, talks you through just what the Idea Share is and why you need to register your team to attend Golf Business Canada Conference & Trade Show.
Click play on the video below.